Welcome to Gemini
One of the most comprehensively equipped recording studios in Europe for microphones and outboards. One of the worlds most extensive collection of rare, classic and vintage equipment for use on site.
The Hillside Studio was established in 1973, becoming Wildlife Studios in 1987. In 1993 the final renaming took place and Gemini Recording Studios was incarnated. During this time the studios have been completely redesigned by Roger Quested (Abbey Road and Air Lyndhurst).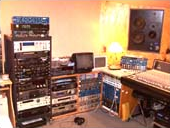 The subsequent result produces one of the best sounds in the country. Precision digital and rich analogue sound both work well.
The studio can fit up to 20 musicians live and accommodates all styles of music.